Prof. G. Sivakumara Swamy
Email: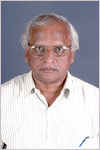 Professor G. Sivakumara Swamy is a retired professor and head of the department of Botany, Karnataka University, Dharwad. He is currently a visiting professor at the Plant Molecular Biology Unit of the Department of Botany at Bangalore University. Prof. Swamy got his B.Sc and M.Sc in Botany from the University of Mysore and a Ph.D in Plant Molecular Biology from the University Of Windsor, Canada. Prof. Swamy has over thirty years of experience in teaching botanical sconces, plant physiology, biochemistry and plant molecular biology at the post-graduate level.
Prof. Swamy's doctoral thesis was on the transfer RNA and aminoacyl-tRNA synthetases in plant cell organelles. He cloned the chloroplast H-ATPase gene. Prof. Swamy's life-long research interest was in the area of lipid metabolism, membrane biology and biophysics, membrane bound enzymes, and membrane fluidity and energy transfer across membranes. He is an author of more than 30 scientific research papers and articles.