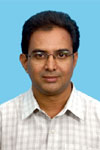 Dr. N. Chandrasekhara Rao is an Associate professor of Economics at the Center for Economic and Social Sciences, Hyderabad. His research interests are in the areas of agriculture, poverty reduction and employment, globalization and agri-food system involving farmers, processors, and retailers, and the role of agri-biotechnology and nanotechnology. Dr. Rao has published a significant peer reviewed report on the "Impact of Bt cotton on Farm Income and Employment in Andhra Pradesh along with Dr. Mahendra Dev, Director of the Institute.

He published extensively on agrarian crisis, capital formation in AP agriculture, Framer's suicides and cotton cultivation in India. Dr. Rao is the recipient of Anamitra Saha Award for best research paper published in the Indian Journal of Agricultural Economics.

Dr. Rao obtained MSc in Agricultural Economics from the Acharya NG Ranga Agricultural University, Hyderabad, and PhD in the same subject from the Center for Economic and Social Studies, Hyderabad.