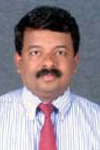 Professor Gopal Naik is a Professor of Economics and Social Sciences, and the Director of the Center for Public Policy at the Indian Institute of Management, Bangalore. He teaches courses for MBA and in several Executive Management Courses at the institute. His areas of research specialization are: WTO issues like competitiveness of Indian agriculture, risk management in Indian agriculture and its policy implications.

He was one of the few competent scientists who carried out the economic impacts study of Bt cotton in India that has been published in a peer reviewed journal.

Professor Naik obtained BSc (Agriculture) in 1980 from the University of Agricultural Sciences, Bangalore, MSc in Agriculture from the GB Pant University of Agriculture and technology, Pantnagar, and a PhD in Agriculture Marketing and Econometrics from the University of Illinois, Urban-Champaign in 1987. Professor Naik is an author of over hundred publications in agricultural economics, and had a distinguished academic career combined with several national and international consulting.