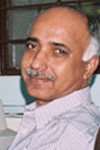 Professor K. Muniyappa is the Chairman of the Department of Biochemistry at the Indian Institute of Science, Bangalore. He is one of leading researchers in the field of biochemistry and molecular biology in India with distinguished track record of outstanding research publications and national awards. Professor Muniyappa's main research interest is in the area of molecular mechanisms underlying chromosome synapsis and genetic recombination, and regulation of telomere length. His research group uses techniques of recombinant (rDNA) technology, biochemical, biophysical and genetic approaches in its research studies.

Professor Muniyappa had a highly meritorious academic record by obtaining first rank MSc Biosciences from Mangalore University, and a PhD from the Indian Institute of Science in 1980. He did post-doctoral research at the University of Georgia, Athens and at the Yale University in the eighties.
Professor Muniyappa is a recipient of Bhatnagar Award, and a member of Indian national Science Academy, New Delhi, and Indian Academy of Sciences, Bangalore, and National Science Academy, Allahabad.